Finally back in SG after 1+ year, and reunited with my favorite housemates! One of them (bestie), has excitedly prepared a list of steak places for us to try out.
We agreed to go for something that's more affordable first, thus bringing us to this little bar & grill that's situated just outside the Amara Hotel in Tanjong Pagar.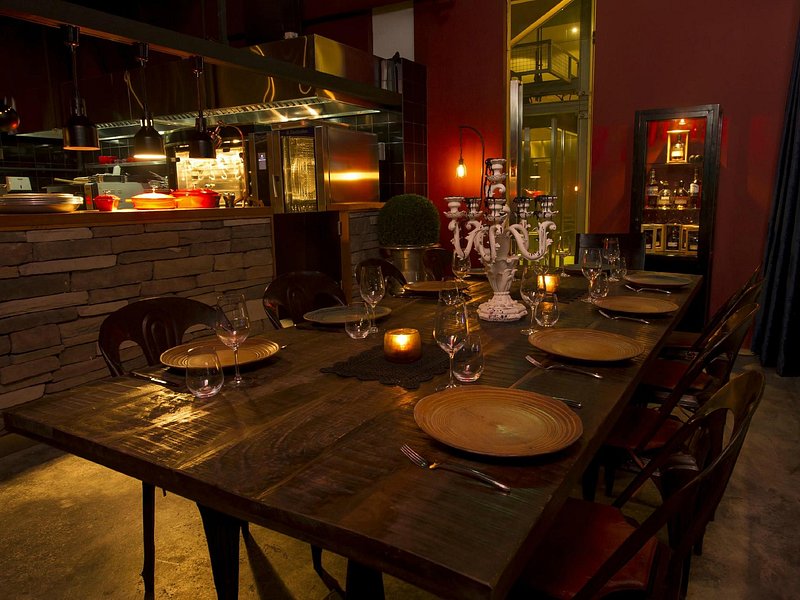 We took a look at their menu. Since there were 4 of us, we thought of ordering their signature dry-aged beef tomahawk.
I haven't had much dry-aged beef since my first experience with it at Vantador 🇲🇾, reason being that I really didn't like the strong flavor that reminded me of peanuts and their slightly pungent edge.
Also, most steaks that they would dry-age are not wagyu, i.e. less fatty, more chewy.
Well since it's bestie's recommendation I decided to keep an open mind and give it a try anyway.
Ours was 1.3kg so about S$205. I generally feel like tomahawks are a scam because you get charged for the weight of the bone (it's heavy af). Bestie disagrees though, he feels that the bone adds a lot of flavor to the meat.
Anyway.
Starters
The bread was barely warmer than room temperature, and not nearly warm enough to melt the butter. So we just placed the slabs of solid butter on top of the bread, and so each bite was room temp bread with a chunk of cold butter.
Plus the skin was so tough (not crispy just tough) that I gave up on it after a while.
We were all confused upon first tasting it because both the texture and taste were not what we'd expect from grilled octopus.
The spicy and creamy sauces were nice but a tad overwhelming, reminiscent of thousand island sauce with added herbs & spices. The octopus was breaded, but the breading was soggy unfortunately, and it felt like we were eating chicken rather than octopus – the meat somehow lacked the springy texture.
After a while we concluded that it tasted like mamak tandoori chicken. Mostly because of the sauce.
Tasted really interesting, just not something we expected when we ordered grilled octopus.
First time having foie gras with pancake which was something new, but the morel sauce that the dish came with somehow made it taste like Chinese cuisine. It tasted like the 卤汁 (marinade) in marinated duck.
And because the pancake is so porous, it soaked up lots of sauce and when you bite into the whole thing at once, the first thing that hits you is the marinated duck taste, then if you really pay attention you may be able to discern a faint hint of foie gras.
So once again, as in the previous dish, I'm really not sure if the sauce is necessary or suitable.
Main Course #1: Wagyu Steak
When it was first served I recall thinking, "Wow, that looks really red. Is it rare? Or is that what dry-aged beef is supposed to look like? We ordered dry-aged?"
I honestly thought we ordered regular, non-aged steak, because I already knew from experience that I may not like the dry-aged one, and so this was to be my back-up plan for the night.
But the color just looked so odd and suspect.
We grabbed a piece each and started eating. Then, one by one, we all frowned.
It just tasted… really off. There was this rancid, sour taste. Two of us immediately spat out the pieces we were chewing.
We asked the server who's a very nice aunty, to help ask the chef if it's supposed to taste & smell this way, and to maybe sear it so it's fully-cooked. Doneness is honestly less of a concern at this point than food safety.
After a while the aunty returned, menu in hand, "The chef said everyone's taste buds are different, so maybe you cannot accept the taste. He asked you to order another steak instead."
We were puzzled, but politely declined to order a replacement steak as the tomahawk was already served by then and it looks pretty huge.
After the aunty left, we started pondering why the chef didn't pick the option of cooking the steak fully for us.
And we thought, maybe he also found it problematic but can't admit outright that they served meat that had gone bad, which was why he asked us to order another one instead.
Because if "everyone's taste buds are different", what are the chances that all four of us, with our different tastes & preferences in food, found it unpleasant at the same time?
I asked bestie to describe his experience. He said,
At the thought of it, we all scrunched up our faces in disgust.
Main Course #2: Dry-Aged Tomahawk
After the ordeal of the rancid (?) steak, the tomahawk was a saving grace. We were almost in tears.
"Omg, THIS is beef!"
"God I didn't know beef could taste this good. Amazing."
Drama-aside, the meat's color was nice. I commented that it was quite unevenly cooked, i.e. almost well-done near the edges, and medium rare in the middle, and bestie commented that tomahawks are usually that way.
Portion-wise there was enough meat for 4, but overall it's a tad dry. The outer layer was crisp and nicely-charred, but the meat itself was not that tender or juicy.
In fact, it's rather chewy and there was also a lot of silver skin that was unchewable & can't be cut through.
Dessert
This one was really popular among my sweet-toothed housemates; I personally only tried a little bit of it and found it sickeningly sweet. But to be honest it's probably the tastiest dish we've had all night.
---
Food: 3/10
I hoped that this place would be able to change my mind about dry-aged steaks in general, but after this meal my impression of them went from bad to worse.
Throughout my steak-tasting journey, the hanging tender wagyu was the first piece of steak I've encountered where I wasn't able to swallow even a single slice of it.
The tomahawk was just okay and not really worth the price.
I appreciate that they're trying to be creative with other dishes, but the sauces are simply too overpowering or out of place at times.
Service: 7/10
For a bar & grill-type of establishment, our server tended to several tables in the area, but was very attentive and responsive. She also helped to relay messages between us and the chef about the problematic steak, and asked us to rate or provide feedback for the restaurant online when we were leaving.
Points were deducted due to the chef's response to our feedback, which barely made sense.
Verdict
It wasn't a particularly good experience for us, and we won't return for another meal.
Damage: S$390 for 4, so about S$97 / pax.